I never in my wildest dreams imagined living in a place where I could see wild flamingos just hanging out in a small pond, lake, pool of water or beach! 🦩 Ministry in Bonaire has been flying by so fast and I just wish it would slow down just a little. Our biggest ministry on the island has continued to be our weekly game nights. We are enjoying getting to know each of the people who come on a more personal level, hearing their stories and slowly talking to them about our church, beliefs and ministry. These game nights have been very successful, and we continue to meet more and more people each and every week! We just spoke with some of them last week about taking over this ministry/game nights when we leave and they're already planning on taking charge of the Facebook Group (80+ members) and continuing game nights at their homes!🙌🏼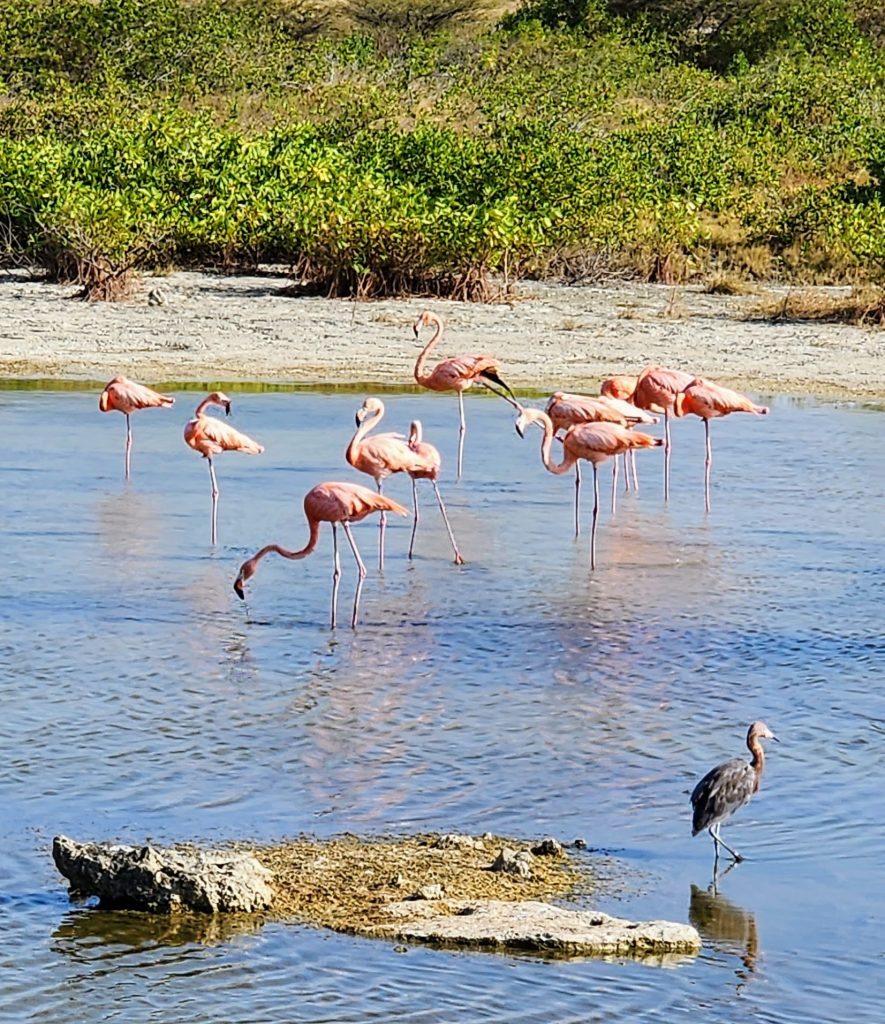 Surprise Visit!!!
On February 6, we drove to the Flamingo Airport expecting to pick up John's best friend, John Chambers from Chicago, but we're also in for a HUGE surprise as our lovely niece, Lauren, and our great friend, Lori, from back home came running to us from the opposite direction! I wish we could've gotten video of our faces because we were all in shock!!! 😳We all had a blast though throughout the week with them and enjoyed showing them around Bonaire and "tried" to hit most of the best sites and activities on their bucket lists! They also enjoyed our game night ministry and cheered John on I on as we hopped from interview to interview while they were here promoting our upcoming marriage conference!
Our Master Chef!

Sorobon Beach

Local guest

There's no place like Lucianos!

😂

More wild donkeys that Mallory & Lori were trying to feed chips to. LOL!

Love seeing flamingos everywhere! 🦩

Lighthouse on South end of the Island

Salt flat conveyor . . . great place to snorkel & see Sea Turtles! 🐢

💙

Boating to Klein Bonaire

These were ALL over the beach … so funny to watch their little eyes peaking out of the holes 🦀

Beautiful rainbow after a few sprinkles & clouds passing by . . .

Klein Bonaire has AMAZING reefs & pictures just don't do justice to the beauty!

Snorkeling here is like being in a giant fish tank with fish everywhere! 🐠

One of my favorites

Good night, Bonaire 🌅

February 14 – Valentine's Day💕
Valentine's Day is a time to think about love and relationships, so we put together a marriage conference to help couples (married or not) grow together and so we could share the gospel with them. The theme of the conference was focused on helping couples not give up on marriage but rather "Give up their marriage" to God so that He can do His work in them and their mate.
We were able to be interviewed on radio programs and on television to get the word out about the conference. That was exciting! Even though we didn't fill the room with attendees, we had a good group of people come and the gospel was clearly presented. We followed up this night's session with one the following week on Sex in Marriage. Both were very well received. Praise the Lord!
February 19 – Annual Ministerio Grasia de Bonaire Retreat 🌵
The Sunday that falls during the week of Karnival, the church spends an entire day at a retreat somewhere in the "Kunuku" (the "outback"). We drove about 20-30 minutes away on some VERY non-friendly, bumpy, rocky dirt roads in a small mini van to Rooi Lamoenchi Kunuku Park. We were able to spend the day together bonding as the Body of Christ. We had our worship service, sang songs, Jared preached, played games, ate delicious food, and did a fun scavenger hunt exploring the area. We had a nice prayer time as a group and then alone to just be in the beautiful nature undistracted. This plantation was absolutely beautiful and filled with so much history. It was an absolutely perfect day to praise and thank the Lord for all He has done for us and thank Him for the gorgeous nature He created!
HISTORY: Mrs. Ellen Cochrane-Herrera, the current owner, brought her great-grandfather's plantation back to life. Rooi Lamoenchi is an old plantation of 138 acres that has been owned by the same family for over 100 years. The plantation house is in excellent condition, the red one was built by hand in 1908 and still serves, there are also aloe fields. A "Red" is a dam or fence, built to capture water in the reservoir behind it during the rainy season. A "Lamoenchi" is a small type of lemon found in Bonaire and is used a lot. Mrs. Ellen Cochrane-Herrera gives tours of about 2 hours herself in the and begins with a tour of the plantation house, she tells interesting stories about how life was on a plantation and explains the operation of old tools. The tour continues through the terrain, viewing the red, an old slave wall and the aloe fields. In the meantime, she also talks about the Bonerian nature you encounter, cacti, trees, birds and plants. It's walking in a beautiful landscape overlooking the ocean. (2) Rooi Lamoenchi Kunuku-Park Bonaire | Facebook
You can see the East side of the Island & huge waves breaking

Blau-Blau Lizard

Anthony killing a HUGE wasp nest!

Beautiful rainbow after sprinkles throughout the morning

"Hermie"

Biggest hermit crab I've ever seen!

Wild goats

Keeper of the Wasp Killer Zapper

Jared giving a great sermon using a drain plug

HUGE iguana (I think he's missing part of his tail?)

Wild donkeys EVERYWHERE on the Island

DEAD baby scorpion

Mallory with some new friends

Scavenger Hunt

My winning Scavenger Hunt team!

Jump Rope Fun!!! (So glad there's no video of me failing terribly!) 😂

Game time! They weren't too thrilled with playing Yahtzee for the 1st time (too much counting). LOL!

Bananas or Cactus???

Loved these cactus all over the rocky terrain

God's beautiful nature ❤️
February 27 – Mike & Amy Riemersma Visit!
Our last visitors from back home while in Bonaire – John's sister and brother-in-law came to visit us for just under a week and we had such a fantastic time! We kept them busy for sure, as you'll see in the many pictures below! 😊
We wanted them to experience as much of Bonaire as possible in their short time here, just as we spent time with our last friends who visited. So, we took them to Sorobon Beach, hiked a mountain up in Rincon and saw many amazing views, went to the Donkey Sanctuary which was really cool, played mini-golf, ate LOTS of ice cream and delicious meals, shopped, visited the salt flats, snorkeled, stopped at many beaches, and drove them around as much of the Island coastline that we could (without having to pay a fee to get into the North parts of the island's National Park. They were also able to experience our monthly sunrise prayer time at Seru Largo and a wonderful night of worship and prayer time by many Island pastors at the downtown square!
With the amazing friendships that we've formed with people from our game nights, we've been able to meet at one of the homes of a local game maker, Fernando and his family, a couple of times now to play games, sing karaoke, and we even went cliff jumping with them while Amy and Mike Riemersma were here visiting! It's awesome having our visitors from back home join with us in ministry and be involved in the activities we're doing with our new friends on the island.
Bon Bini, Mike & Amy!

Local fisherman caught a huge Swordfish & Mahi Mahi

Pelicans are always at the fisherman's dock waiting for scraps!

Many people were driving through with trucks & they would feed the donkeys from the back . . .

. . . then this happens!!! 😳🤣

First time ever seeing a Flamingo fly!

Iguana bathing in the donkey's water bowl

This baby donkey was only 3 weeks old

So soft & cuddly 💕

Another baby just a bit older

This is the East side of Bonaire – very windy, strong current, high waves & many rocks

Beautiful

Salt Flats . . . they're clearing a field that is ready to harvest

This was our little piece of "Michigan" in Bonaire cuz it looks like snow! ❄️

Amy WON! (beat Rafael at his own game . . . beginner's luck!) 😉

Headed North to Rincon to do some hiking . . .

VERY old

AMAZING views!!!

Crazy guys! They started screaming & running at the top . . . we thought it was because they saw a snake but rather a huge swarm of bees! They came down much faster than going up! 🐝

I had to get a picture of this little cactus cuz it looks like "Sporky" from Toy Story!

A Raptor bird

I guess this wall is one of the oldest plantation walls on the Island

Some more wild donkeys

Lionfish anyone???

Snorkeling right by our apartment again with Mike & Amy 🤿

Banded Butterfly Fish

Yellow Striped Goatfish

Can you spot the Moray Eel???

Squirrel Fish – it's always hiding in the same spot everytime I snorkel here

Peek-a-Boo!

Mini-Golf

1000 Steps Beach

It's named after a tall ladder that you need to descend in order to get to the beach (although in reality it will take only about 70 steps).

Karpata Beach

My camera case broke here & I couldn't get any water pictures but it was VERY rough water here with lots of waves (we didn't stay long)

I SPY . . . Shell Hearts

Old Plantation

Oil Slick Beach

Cliff jumping here was so much fun!

Karaoke time!

Bo

Seru Largo at Dawn

Prayer & Praise

Can you spy a special guest to our prayer time?

Beautiful sunrise with rain clouds

Hiking Seru Largo

Game of the day – SONAR

Worship on the downtown square

Prayer by local Bonaire Pastors

Pastor Carlos & Mike went to Grace Bible College together
The rest of my pictures are of a variety of our daily/nightly activities we've done with new friends we've met, church members, more game nights, church ministry, street ministry, Anthony and Jared preaching, and more snorkeling pictures before my underwater case broke from saltwater corrosion. 😭
Local friends from where we play pool

Date Night

Another wild donkey

John explaining Creation & answering lots of questions about dinosaurs, Ice Age, evolution & more!

Best sorbet ever!

Anthony preaching for the first time

Wonderful friends from Curacao that visited Bonaire

Can you spot the crab?

Sally & her grandson singing a duet

Best sunsets ever here in Bonaire!

Baby Squirt I see just about every time I snorkel by our apartment

These tiny babies swim up to me while snorkeling & I play with them with my fingers … soooo cute!

Bonaire Outdoor Theater

What movie are we watching?

Can you read the subtitles?
The hardest part of this post to write and reminisce on was having to say goodbye (rather "see ya later") to Jared and Abby, as they had to end their trip early due to some unfortunate circumstances with Abby's health. She did get some advice and medical assistance while we were in Curacao which was a blessing, but things just weren't getting any better here in Bonaire, and after seeking some more advice here and talking with her doctor back home, we decided it best that she get the help she needs from her own doctor in Michigan. It was such a blessing that I was able to talk with American Airlines and get a shorter flight home for Abby on Saturday, March 4, (only 9 hours with one stop) since she was going to be by herself, and she made it safely to Grand Rapids, and was even able to surprise her best friend at the airport with coming home early. Jared just left on Monday, March 13, as he had already planned on joining John at the GGF Pastor's Conference in Arizona the week prior and plane tickets were already purchased. (They both had a WONDERFUL time at the conference too and I was so happy that Jared could join him this year since he'll be graduating from Grace Christian University in December.) So, the newlyweds are reunited again and doing well back in Michigan. Abby is getting doctor appointments scheduled and Lord willing, some answers to her health issues, and Jared has been and continues to be the best husband he can by caring for Abby and supporting her through the many ups and downs of health issues. 💕(It's almost like God knew that one day he would marry someone that he would have a glimpse of experience with as he grew up with his own mom having many of the same issues.) God is so good ALL the time and knows exactly what He's doing! 🙏🏼
We cannot believe that we only have 32 more days left here in Bonaire! Time has flown by sooo very quickly and it's definitely going to be bittersweet ending our mission trip and coming back to Michigan but we're excited to see our family, friends and be back to Frontline again! We've made so many new friends and really have some thriving outreach activities that will be missed BUT very excited that we've already seen our weekly game nights will be taken over by some of our group members! We would really appreciate it if y'all could pray for us this last month that we can really have some more conversations with them about the Gospel and how important it is to have Jesus in their lives!
Thank you again for all of your continued prayers and support! We are so truly blessed to be here and excited to continue watching God work in our lives, as well as the lives of the Islanders!