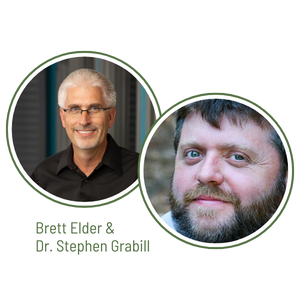 The FBC Trustees are committed to providing resources to help you grow spiritually in the area of stewardship. You are invited to join this church-wide three week Bible Class April 30, May 7 & May 14, 11:15 am in the Worship Center.
Financial management and generosity often take center stage when the word "stewardship" is tossed out in conversation or in churches. For younger generations, stewardship might also conjure up ideas related to environmental concern, or event corporate responsibility. During these three classes, we will explore Biblical stewardship; a role that is central in each of our lives. Here are some other questions we will explore together:
What is Biblical Stewardship?
What are seven key purposes of stewardship?
How does financial generosity fit into the Biblical understanding of stewardship?
Where does stewardship and generosity figure into the life of the Church?
What are five central arenas of stewardship?
How can we become more effective stewards?
ABOUT THE PRESENTERS
Brett Elder and Dr. Stephen Grabill have journeyed together for over 20 years developing resources to help the Church embrace the profound privilege and calling of stewardship. Born out of significant teaching, training, and equipping throughout the developing world (Brett) and scholarship at the intersection of Christian faith and economics (Stephen), they shepherded the development of the NIV Stewardship Study Bible, several books, curriculum and other published resources related to Biblical stewardship, along with a full length feature film entitled For the Life of the World.
---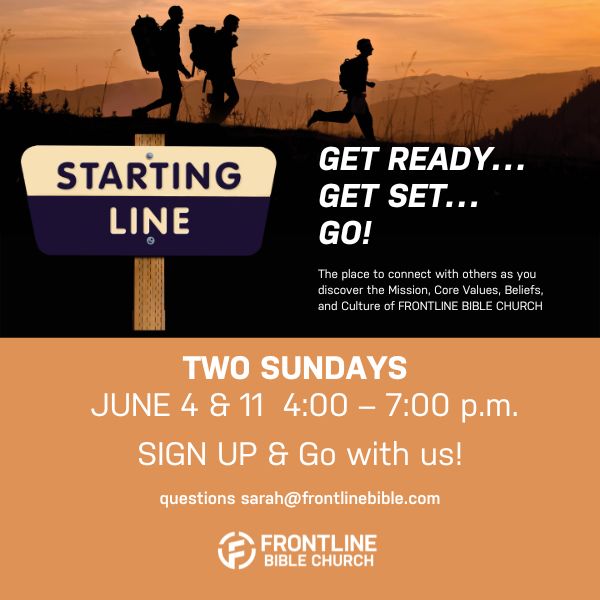 Starting Line Class
Get Ready. Get Set. Go!
The next Starting Line Class will be two consecutive Sunday evenings, June 4 & 11, 4:00–7:00 pm. Come learn more about Frontline Bible Church. To give everyone an opportunity to fully participate, we limit the class size to eight. Save your spot and SIGN UP by May 31. Email Sarah with any questions sarah@frontlinebible.com
LOCATIONS FOR NEXT STARTING LINE

June 4th:
The home of Terry & Joann VanEeuwen
8109 Byron Creek Dr SW
Byron Center, MI 49315

June 11th:
The home of Cliff & Sheryl Idema
958 Alles DR SW
Byron Center , MI 49315

Bible Classes:
Bible Classes meet September through May.
KIDS BIBLE CLASSES: Kids ages 0–5th Grade. See Frontline Kids page for Class Descriptions
YOUTH BIBLE CLASS: Middle and High School age students. Understanding Your Bible Taught by Corey Johnson and Andrew Fittis. Meeting in the Youth Room.
GRACE BASED PARENTING, part 2: Building Character
This exciting study is a practical strategy for raising kids who turn out right by instilling character into their hearts. The seven powerful sessions, with helpful discussion guides will show you how to model and teach your children about faith, integrity, poise, discipline, endurance, and courage. This class led by Chris Van Stee and Amanda Marzean. Meeting in the Children's Worship Room.
GRANDPARENTING MATTERS — Are you ready to Grandparent on Purpose? For some Grandparents it will shake your world and give you a brand-new perspective on what it means to be an intentional Christian Grandparent. Is it your desire to say, "I want my grandchildren to be in Heaven with me?" Join John Records as he leads this new Adult Bible Class beginning January 8. Meeting in the Conference Room.
---

Beginning March 26th — NEW SERIES: Defending the Gospels: Can you trust the gospels? How do you know. This new series will be approached in a small group format. Discussion will follow the book, Testimonies to the Truth: Why You Can Trust the Gospels by Lydia McGrew. Led by Pastor Will Hess. Meeting in South Equipping Room.
AUDIO FILES: unAPOLOGETIC Class at Frontline Bible Church