---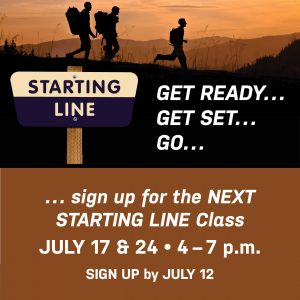 Starting Line Class
Get Ready. Get Set. Go!
The next Starting Line Class will be Sunday nights, July 17 & 24. Come learn more about Frontline Bible Church. To give everyone an opportunity to fully participate, we limit the class size to eight. Save your spot and RSVP by July 12. Email Bev with any questions bev@frontlinebible.com

Next Starting Line Classes: Sundays, July 17 & 24, 4:00–7:00 pm.
LOCATION FOR NEXT STARTING LINE

Terry & Joann VanEeuwen
8109 Byron Creek Dr SW
Byron Center, MI 49315
---
Bible Classes
Bible Classes for Kids and Youth will resume September 18.
---

unAPOLOGETIC BIBLE CLASS for adults, will continue through the summer. There are few Sunday's when we will NOT meet: June 5, July 3, July 31, September 4 and 11.
Have you ever been asked a tough Bible question and not exactly sure how to answer it? Have you ever had a question but were afraid to ask it? This class – unAPOLOGETIC – is designed to equip the church on how to respond to some of the world's biggest questions in order to stand confidently in the Christian worldview. With today's culture attempting to erode truth, it is now critical for Christians to be equipped to stand unapologetically on the Bible.

Join Pastor Will Hess as we explore how to be unAPOLOGETIC.
AUDIO FILES: unAPOLOGETIC Class at Frontline Bible Church
---
---