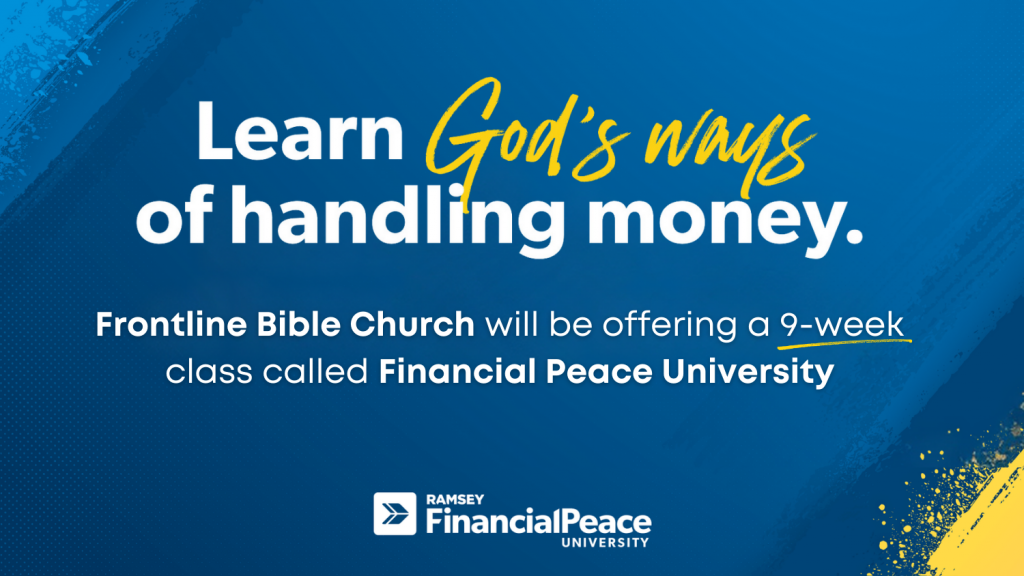 Have you been looking for a way to finally get on top of your money? This. Is. Your. Time.
Sign up for a nine-week Financial Peace University class starting on JANUARY 14 and 15, 2024.
Make today the day you decide to own your money—not the other way around. You've got this!
Financial Peace University is a nine week program that Frontline Bible Church is offering to its attendees and the general public. Classes will not be held on January 28 and 29 due to FBC Mission Conference. Childcare will be provided to those who participate in the Sunday and Monday night classes.
Please register using the link below. If you would like to register manually, please see Sarah Maas (Administrative and Communications Assistant).
Cost for each family unit is $50 (usually $80) and an individual person cost is $25. Each person who attends Financial Peace University will receive a digital copy of their workbook. If you would like a hard copy of this workbook, you can pay through cash or check to the church or online through EasyTithe. The cost of a single hard copy workbook is $5.
To pay for this class online, click the easyTithe graphic and look for "Financial Peace University" in the drop down menu options. To pay with cash, bring all cash to Sarah Maas in the church office. To pay by check, write the check out to Frontline Bible Church and put "Financial Peace University" in the memo spot. Checks can be put in offering boxes, mailed to the church or brought to Sarah Maas in the church office.