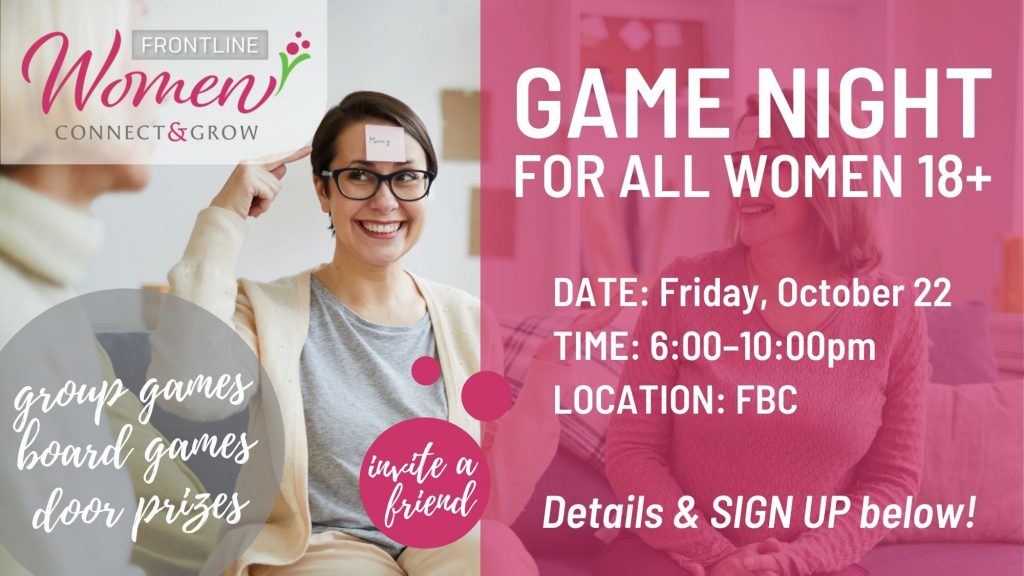 Women (18 and over) of Frontline Bible Church, join us for LADIES NIGHT OUT & GAME NIGHT! Friday October 22, 6–10pm, at FBC.
Bring a favorite appetizer or salad to share AND A FRIEND! Use the link above to sign you and your friend up and join us! Let's enjoy some community and laughter!
Drinks and dessert will be provided.
---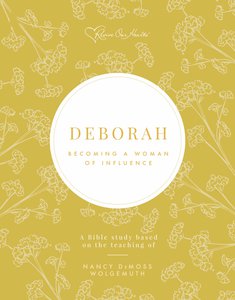 Tuesdays—7–8:30 pm
beginning September 14, 2021 for six weeks
FBC Conference Room

Facilitated by Kathy Campbell. Email her with any questions [frontlinewomen@frontlinebible.com]

Participants need to order their own workbook.
$10 paperback; $5 digital
Revive Our Hearts
Join us to explore one of the most interesting biblical women recorded in the Bible. "As we step into the fourth chapter of the book of Judges, we find the nation of Israel in a prolonged season of moral decline, economic crisis, enemy oppression, and a vacuum of wise, godly leadership. In His mercy, God raised up a woman named Deborah as an instrument of grace and hope for His people. With courage and conviction, by trusting God and His plan, Deborah became a woman of influence — not only in her time, but also for our day."
This Revive Our Hearts study is a six week exploration to discover how to become a woman of greater influence. This study includes scripture memorization, daily study and group discussion questions.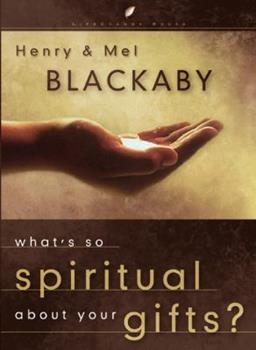 What's So Spiritual about Your Gifts?
by Henry & Mel Blackaby
Tuesdays: 7–8:30 pm
November 16, 30, 2021 & Dec. 14, 2022 for three weeks (every other week)
Location: South Equipping Room, FBC
Facilitated by Kathy Campbell. Email her with any questions [frontlinewomen@frontlinebible.com]
The first two chapters will be discussed the first night. Get your book early!
Purchase book

What exactly have you been given? Surprises are in store when we explore biblically what spiritual gifts really are, how they fit with our natural strengths and talents, and how they match our calling and assignments from God. This book will help restore the Holy Spirit to the center of your understanding and practice of spiritual gifts, and set you free to serve God as never before.
Upcoming Events
(click to download a PDF FWM 2021-2022 Calendar)
TUESDAY, DECEMBER 7, 6:30–8:30pm:
My Five Favorite Things
Join us for a favorite night of sharing, giving and snacking. Each person brings five of the SAME items in five separate gift bags. You will share why this item is special to you or why it's a favorite. Then you will give your five items to five different people. You bring five of the same gifts, and go home with five different gifts. This is a great time to get to know each other better and a great event to invite a friend too! Use your creativity, baking skills, crafting/making skills or shopping skills to let us learn about YOU!
Max spending limit is $20 for your five gifts.
APRIL 22–24, 2022: LADIES RETREAT
Watch out Traverse City, Frontline Bible Church women are coming to connect and grow! More details to come. SAVE THE DATE!
The retreat is for relationship building of those women who attend FBC regularly.
FBC Women's Leadership Team
The FrontlineWomen's Leadership Team is committed to providing opportunities for the women of Frontline to connect and grow as we build relationships with one another, and to dig deeper into God's Word, challenging each other spiritually. We welcome your suggestions and ideas for events, ministries, etc. Or if you just want to talk, contact: Kathy Campbell, Director; Kathy Domsic; Maryedith Rasmusson; or Bev Blando.
Interested in JOINING the FrontlineWomen's Leadership Team? Email Kathy Campbell
SIGN UP for FrontlineWomen eMail updates via MailChimp.
---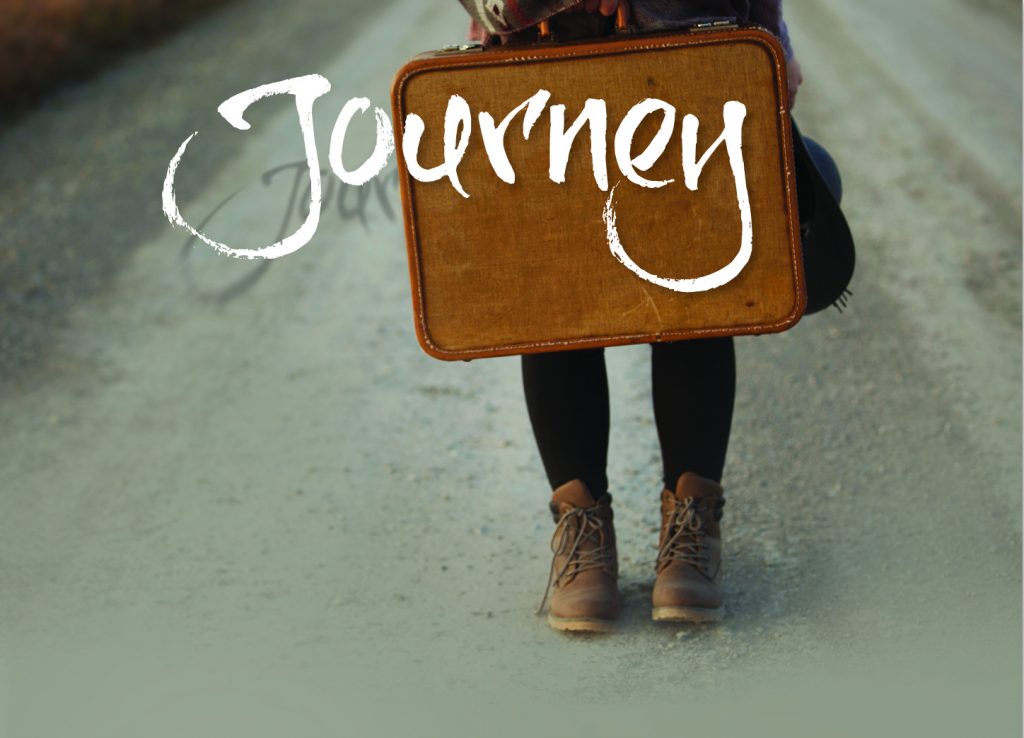 Life is a Journey; a path marked by hurt, hope, struggles and gain – each with their own set of emotions. Some experience significant trauma and abuse on their journey which leave them with lasting scars. Others haven't known that trauma, but have carried a word or experience which came at a particularly vulnerable time creating a wound of its own. Both scenarios generate behaviors and thought patterns we use in an attempt to deal with our hurt, anger, disappointment, betrayal, abandonment and pain. Journey and The Journey Continues are each nine-week courses designed to help you explore your story in a confidential, small group setting. They teach you not only how to understand your past and it's impact, but how to live forward through Christ with empathy and forgiveness, learning to love yourself and others. Authentic community is created where people are heard, loved and heal together.

Contact Maryedith Rasmussen if you are interested in learning more about participating in a Journey group.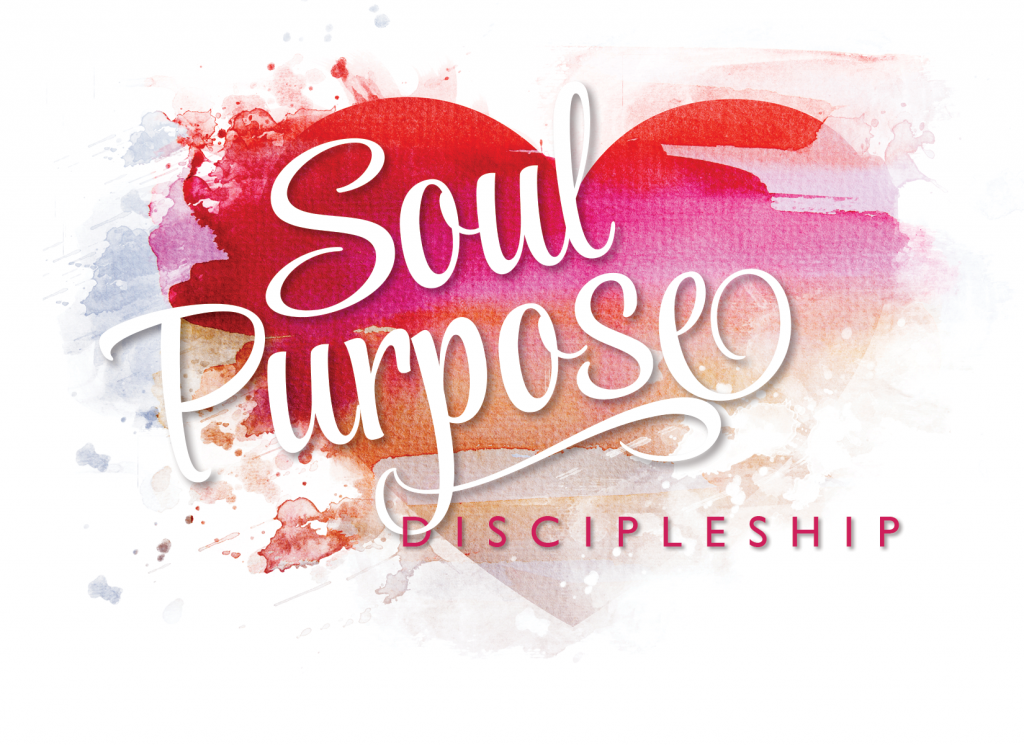 Jesus, when He walked this earth, invested His life in twelve men. That's it! He loved them; taught them; challenged them; and did life with them.

Soul Purpose is about investing and sharing your life with three to four other women; digging deeper and growing spiritually. Through transparency and authenticity, each group member is supported, loved and challenged.

Daily homework, based on the Her Life Matters curriculum, helps you to learn who God is and what He's calling you to do in this world. Expect to grow in this two-year curriculum, and learn to say "No" to Satan – to his lies and temptations through the strength and encouragement of your small group family.

Contact Kathy Campbell if you think a Soul Purpose group is your nextStep in growing in your spiritual walk with God.