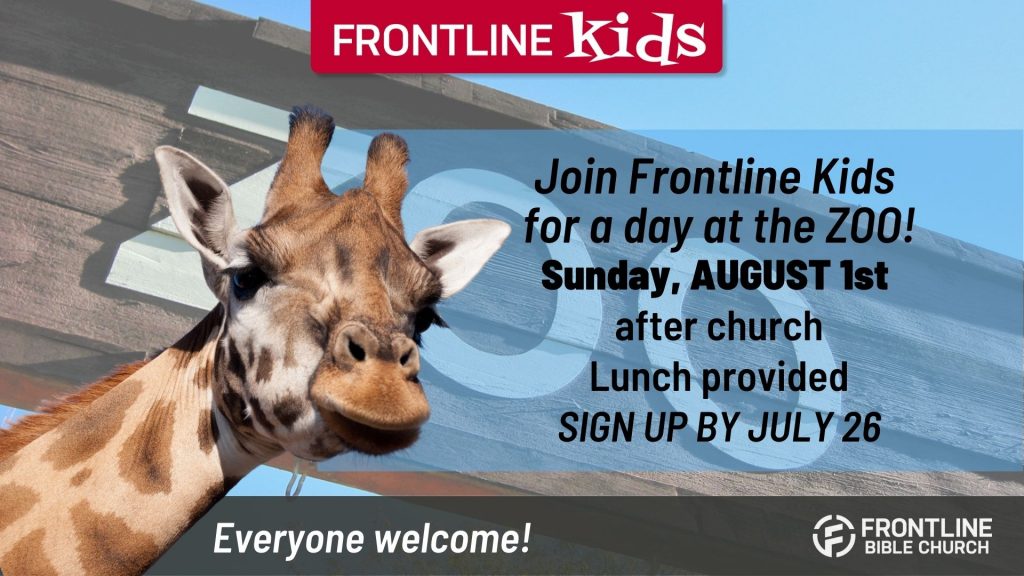 FRONTLINE KIDS invites the Frontline Family (invite a friend) to join them for a day at John Ball Zoo, August 1st. Lunch is provided (choose your sandwich preference when you sign up by July 26). You are responsible for your tickets to enter the Zoo. However, if you need assistance paying for you tickets, just indicate that on the sign up form. OPPORTUNITY: if you are interested in paying for someones Zoo tickets, simply go to easyTithe and look for the PAYMENT: ADD DESCRIPTION option and type in Frontline Kids Zoo. Please RSVP by July 26.
Children's Worship meets 10:25 am – 11:25 am.
We offer two classes that teach age appropriate ways of worship. Check in at our Welcome table in the Multi-Purpose room and we will show you to your class.
K-3rd Grades [offered September – May]
3 year olds–Pre-K
Nursery [ages 0–3] meets 10:25 am – 11:25 am. Check in at the Nursery counter.
Corey Johnson is the Ministry Director for Frontline Kids. He, along with the team of leaders, have a passion for providing fun, interactive Biblical teaching that makes an eternal impact at every age.
2020-2021 KIDS Ministry Registration Form
Family Resources:

Focus on the Family has a lot of useful information for families covering a wide array of topics. They also have a free, downloadable activity document for younger kids focusing on Easter. Look for the "Enjoy Free Easter Fun for Your Family" link near the top of the homepage.

For something to listen to, there are a few free episodes- scroll to "New to Odyssey?"

Answers in Genesis features a 'Kid Mode' for kids under 13 with lots of resources for your child to interact with directly through the site. Includes videos and activities about Creation, Easter, and other topics.

If you have access to a printer, there are many biblical coloring pages and activities to print. These can be good opportunities to pass time and to open discussions with your kids!
We value children greatly and believe they are an essential part of the church today. Here at Frontline, we strive to partner with you as you introduce and encourage your child(ren) to become passionate, devoted followers of Jesus Christ. Our dedicated children's staff work hard each week to provide a relevant message to children of all ages. We sing, create with our hands and engage the stories of the Bible into the hearts of the youngest participants in our church.
Every children's ministry is staffed with a protection policy certified and trained volunteer. The safety of your child(ren) is important to you and it is important to us.