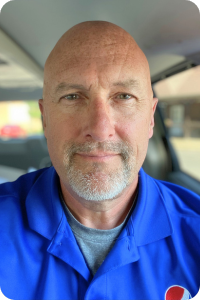 My Story of Impact: Kevin Miles
Hi, my name is Kevin Miles. I met Pastor John Lowder several years ago when I was leading a men's ministry in the West Michigan area called Go the Distance Ministries. At the time, my family and I, were going to another church in the area, however I appreciated Pastor John and was encouraged by what was happening with Frontline Men's Ministry. Fast forward about 15 years, my wife Lori and I decided to visit Frontline Bible Church in February of 2022. Our son, Turner, had become friends with Mallory Lowder through high school band.
Because of a host of reasons that I'd be happy to share with you over coffee sometime, we had been lacking a regular, ongoing church experience and continued to attend Frontline Bible Church (FBC) off and on over the next several weeks. I remember distinctly feeling like a blanket of love surrounded me during Easter worship 2022. My wife attended the women's retreat shortly thereafter and was getting plugged into different women's lives. Pastor John Lowder and I reconnected over breakfast one morning, and I asked if he had ever heard of John Lynch. He said, "I love John Lynch!" I said, "What would you think about having him come to FBC for a conference?" It didn't take long for him to say yes…and I was off and running to schedule a personal friend and mentor as well as author and speaker, John Lynch, to bring a conference to FBC and the Grand Rapids area.
John Lynch was the teaching pastor at Open Door Fellowship in Phoenix, AZ for 25 years, he has since retired from the pastorate, and now writes and speaks throughout the country, learn more by visiting www.johnlynchspeaks.com. I was first introduced to the message of grace presented by John Lynch in 2004 through the book TrueFaced (since retitled The Cure). A friend shared a recorded message by John Lynch with me saying, "I think you're going to like this." My life was impacted. I was just beginning to serve in men's ministry at that point, and the message of The Two Roads resonated very deeply with me, and it had great application to my ministry, and more importantly, to my own life. I purchased and read TrueFaced, led a study of it for men and women at the church we were going to. I began to see the ripple effect of the simple but profound message of Grace. People who had been going to church their entire lives were being awakened to the freeing and fresh message of grace, which John Lynch calls "The Original Good News."
I began showing The Two Roads talk (the long version has now been viewed over 225K times on YouTube) at the beginning of my men's group studies and the men's retreats we were offering. There was something waking up in the hearts of men through the message of "what if God isn't who you think he is, and neither are you?" I started believing, that in many ways, for the first time in my life, that I'm living with Christ in me, and I can rest knowing that Christ is working in me and through me, further I don't have to strive to please God like I had been doing. Up until that point in my life, I had led a Christian campus group at CMU, had worked in Christian retail and publishing, and was now leading a men's ministry, however, I always had a nagging sense that I was not quite living up to my potential as a Christian man, and that I had to do more for God. That silent shame led to a life of hiddenness. I was "posing" as a "good" Christian man. Nobody could know my sins—everybody else had their lives together and I wasn't about to wreck the parade! But this idea that I could TRUST God and others with who I really am began to win the day.
I started opening up more and more, to my wife, to some trusted friends, and began to cut through the fear of embarrassment and shame and into the marvelous light of allowing others to love me, even on my worst day. The idea that I could be loved more, not less, even when I was at my worst, changed my life. I was finally freed from the false bondage I had found myself in, my life was turned around. As I began to live in my new nature, I became more and more emboldened to invite others to experience grace. My wife was also impacted by this message of grace and I really believe it helped her as a mom as our kids were growing and maturing. That's her story to share.
For almost two decades, I've been able to connect with John Lynch a number of times and am so grateful that he and his wife Stacey will be at Frontline Bible Church September 8-10. I have had a desire to invite him to West Michigan for several years, and to have my church say Yes to the Freedom in Grace Conference is truly special. My prayer and hope is that you will be impacted in an amazing way like I have been. I hope that this conference will grow the impact of grace in all our lives and prepare us to share this with others in this new ministry season at FBC and on our frontlines in our communities. Invite your friends, family and neighbors!
We are working with several folks to underwrite the Lynch's being here so we are not charging for this event. If you would like to donate and help fund this event, you can find a link HERE and it will take you to the EasyTithe page. Click the down arrow and then scroll to find the FREEDOM IN GRACE option.
Thank you for taking a few minutes to read my story. I look forward to seeing all that God has in store for Frontline Bible Church and the greater Grand Rapids area!