Life in Bonaire has been fantastic! I cannot believe we've been here a month already! So much has happened since arriving here on this beautiful island. We've enjoyed getting to know each of the church members personally on deeper, spiritual level and hearing their stories. Our weekly game nights have been very successful, and we continue to meet more and more people each and every week! 🙌🏼
January 25 – Our first "official" game night was a big success! We had three islanders join us, with one of them actually being a game-maker himself (Fernando). Our friends from Curaçao even joined us which definitely made a full house and so much fun!!! One of our friends stayed WAY past the finish time at 9pm, as we listened to his story, struggles, family and spiritual life and more … until midnight! God is working and it's so awesome being a part of His work here in Bonaire!
We've all had a couple opportunities to connect with some of the students at a local school nearby that a young lady from the church teaches (Romy). We enjoyed time at TeAmo Beach snorkeling, jumping off the pier, swimming and getting to know them more. Anthony, Jared, and Mallory also went another day to play some mini golf with a few of them to try to connect with them on a deeper spiritual level. This connection is going to provide other opportunities for Anthony to lead a bible study or do an evangelistic outreach event to reach these students with the Gospel. As far as Romy knows, none of the kids except for one of them, know Christ personally. So, this will be a great opportunity to speak and share the gospel with them!
One of the big and exciting highlights of our trip so far in regards to the culture and political side of Bonaire is experiencing the visit of the KING, QUEEN & PRINCESS of the Netherlands!!! 👑🇳🇱 King Willem-Alexander and Queen Maxima have not been to Bonaire in many years and their daughter, Princess Catharina-Amalia Beatrix Carmen Victoria, has never traveled outside of the Netherlands to visit the Islands. So, we just happened to be here during their first stop of their Island tour to Bonaire. It was quite the spectacle, as they were here for just two days and visited several sites around the Island and every time they would leave to go somewhere, we would hear sirens and see a caravan of vehicles drive past our apartment because they stayed just down the road from us. I even got a picture one of the times and they waved to us! But that's not the most exciting part of it all . . . during the parade through downtown during what's called "Taste of Bonaire", not only did we get some great close up shots of them BUT John was actually at the same food booth that they stopped at to taste some local delicacies! I was across the street and shouted across the security people to ask John to get his phone out and take pictures! HAHA! The King actually spoke to John and told him to not stop eating because of them . . . John said it was all such a blur and surreal that here he's standing right next to royalties while they're eating and talking next to him with paparazzi all around taking pictures! 😲 John said that if he would've been in his right frame of mind that he would've asked for a selfie (which they totally would've done with him). 🙈 Regardless, it made our night and was so exciting that he actually met them and if you Google pictures of the King and Queen in Bonaire, you just might find John in some of them at this food booth (of course we've already googled several Royal sites and sure enough, John is now a celebrity)! 😂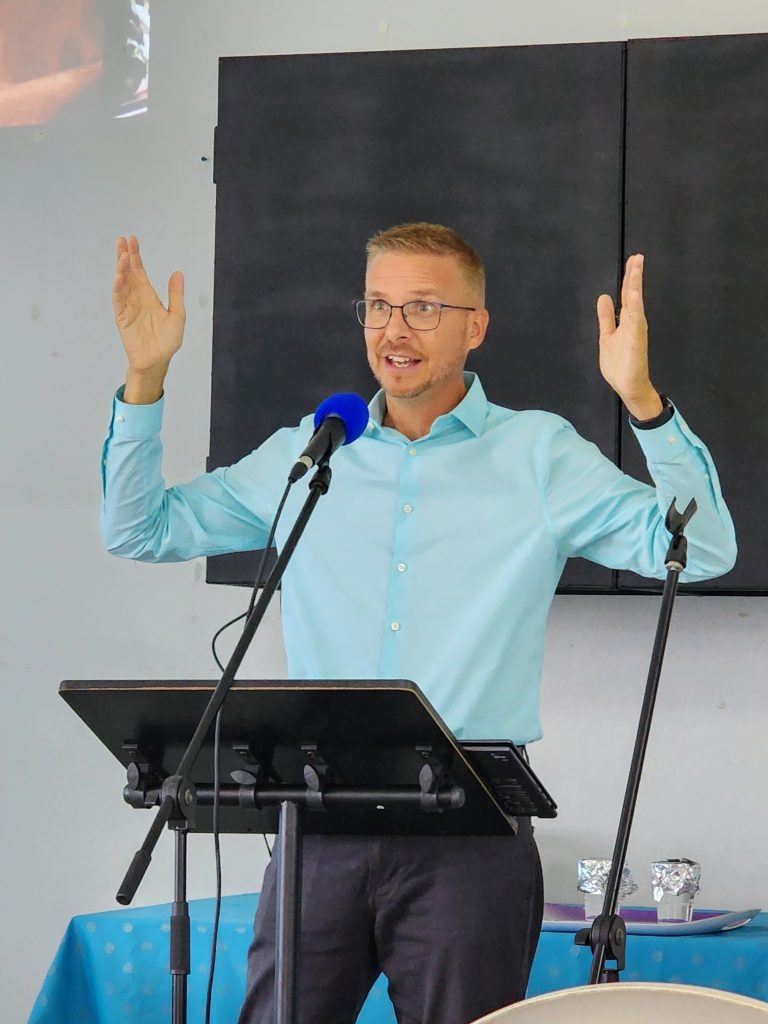 John met a wonderful couple while we were at the beach with Romy's students, as they were just relaxing, enjoying the sun, sand and snorkeling. And as you all know, John can talk and meet people ANYWHERE! Come to find out, they were both retired nurses from the Netherlands on holiday for two weeks. Martin had grown up Catholic but hadn't gone in years. Marga was raised in a STRICT Reformed Church in the Netherlands (it's known as the "Black Stocking Church" because that's what they had to wear) and left when she was 12, vowing never to go back. John was able to share about God's love for us and how the gospel is not about religion and rules but offers life and freedom through Jesus Christ. They listened with interest as this message seemed foreign to their understanding of Christianity and asked to meet again with us. We jumped at the chance.
We were able to meet two more times with them before they headed back to the Netherlands and shared the good news of the gospel each time and gave them some Christian book suggestions for topics we discussed. They are already making plans to visit us in Michigan later this year, and our prayer is that the seeds of the gospel that we planted will result in a spiritual harvest very soon. We also are excited to possibly visit them someday, as well, and take them up on their offer to be our tour guides in the Netherlands.
We have found the Europeans here on the island to be very apathetic to the gospel but interested that we are here as missionaries. So, we continue to build intentional relationships and trust the Holy Spirit to break through the walls of apathy and religious indifference to the gospel.
🤿 Snorkeling off the Boardwalk 🐠
Just steps away from our apartment is a beautiful boardwalk that extends far along the West side of the Island, and we get amazingly beautiful views of the sunset, plenty of fun walks into downtown for shopping, eating and ice cream, as well as wonderful snorkeling spots to explore! 💦
We had an opportunity to go and do a monthly prayer meeting at the top of a "mountain" (Seru Largu – Millenium Monument) that overlooks a large portion of the island, where you can see both the East and West shorelines. One thing that I've been inspired by is seeing how Pastor Carlos and his wife Denise devote a lot of time to prayer. We will be doing this once a month while here, as well as being a part of our every Thursday prayer meetings with individuals in the church via Zoom and having prayer meetings together as a family once a week. 🙏🏼
The game maker guy (Rafael) that we met at one of our game nights invited us over to their house for board games and karaoke. This was a wonderful time of fun and fellowship, and we even prayed with them at one point! His wife, Vanessa, is a professional singer here on the Island, so Mallory and Melinda went to hear her sing one night at a local beach club. It was a great girls night out and Vanessa even let us get up and sing! 🎶
Anthony had his first opportunity to preach two Sundays ago and did a fantastic job! John has been working with him and Jared through a preaching class and gave them both the opportunity to partial preach (20 minutes). In March, both Anthony and Jared will be preaching an entire sermon on their own! 😊 Mallory and Abby sang special music, Abby got her "baby fix" and Mallory showed everyone her lizard catching skills! 🦎😂
Thank you again for all of your prayers and support throughout our many ministries that are blooming and growing throughout the island of Bonaire! We are so truly appreciative of you all and excited to continue watching God work in our lives, as well as the lives of the Islanders! 🙌🏼