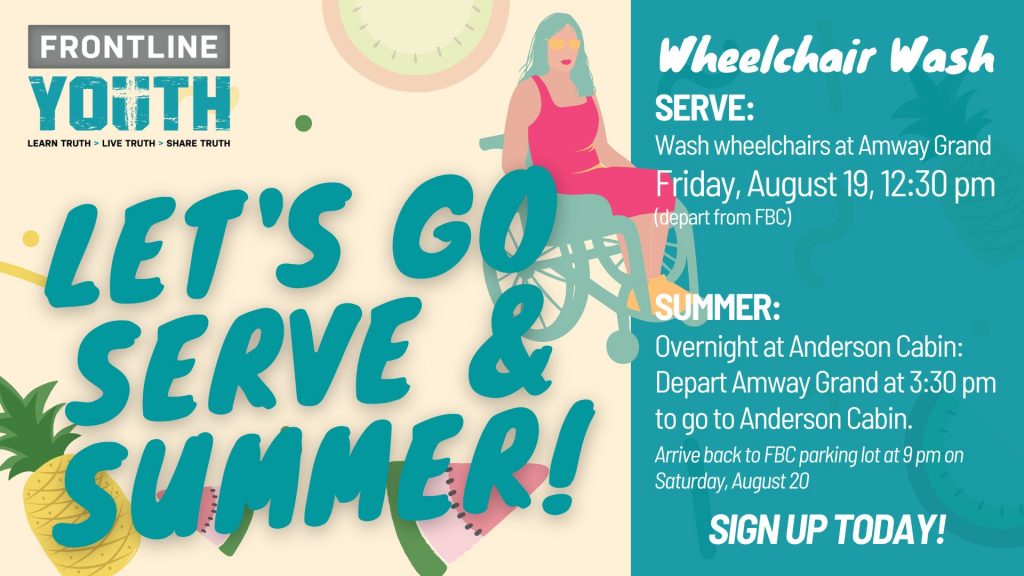 Middle & High school youth, join us for a SERVE OPPORTUNITY…
FBC family member, Shelly Loose, is a leader in an organization called Ms. Wheelchair. The week of August 15-21, Ms. Wheelchair National competition will take place in Grand Rapids. We have an opportunity to serve the contestants and community by cleaning wheelchairs at the Amway Grand!
We will leave FBC at 12:30 pm. We will clean wheelchairs until 3:30 pm. Then we will load up and head to Mark & Jill Anderson's Cabin for a little SUMMER FUN & overnighter. Pack an overnight bag that includes: swimsuit, sandals, sunscreen, toothbrush, towel, sleeping bag and pillow, etc.
We plan to swim, boat, play games, bon fire, eat food and sleep.
The FBC van will leave the Amway Grand at 3:30pm.
Please indicate below if you will be riding the FBC van from FBC, or from Amway Grand.
Transportation will be provided:
from FBC: 12:30 pm
from Amway Grand: 3:30 pm
We will arrive at FBC at 9pm on Saturday, August 20. Please plan to pick up students at this time.